Trafford Grand Prix 2022 Distance/Throws
09/08/22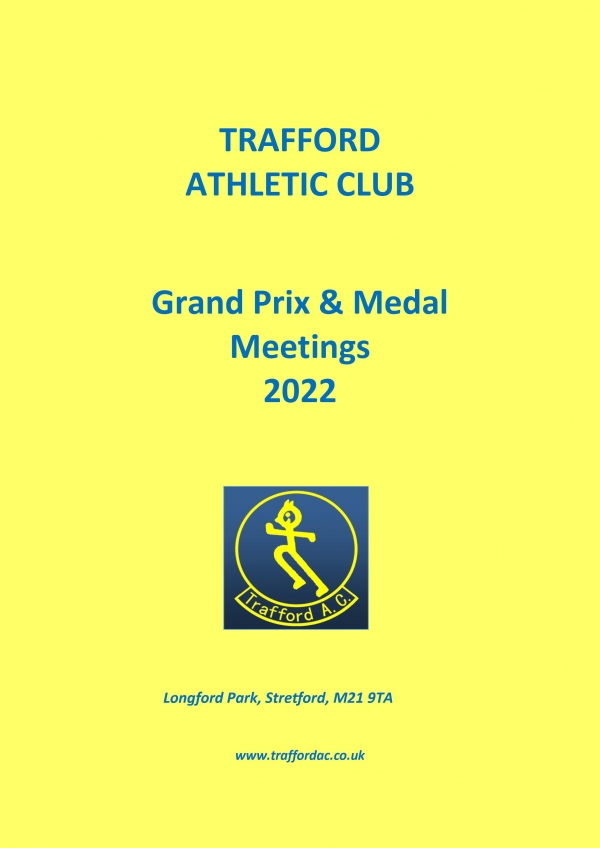 Trafford AC Grand Prix - Tuesday 9th August 2022
Venue - Trafford AC, Longford Park Stadium, Stretford, M21 9TA
Events - Distance and Throws
For more information - click here
To enter events - click here
Timetable and Order of Events - First race starts at 6pm
6 pm U15 1500m
6.30 pm 3k
7.15 pm 800m
8.00 pm 1500m
6.30 pm Hammer
7.30 pm Javelin
The organisers reserve the right to change any detail within the programme. Entries close 30 mins before the event time – if you enter after this time, you may be allocated a slower race. Numbers must be collected 30 mins before the event.
Entry in advance £7 for one event, £2 for each extra event at www.traffordac.co.uk
Entry on the day £9 for one event, £2 for each extra event. Spectators £2.
Meetings held under UKA Rules. Pacemakers are not allowed in any Open races, either for the race as a whole or for specific athletes within a race (unless pre-arranged with the organisers). No U13s.
The wearing of club vests is encouraged and assists the results team. External photographic/video evidence cannot be used to determine a result. Requests for performances not to be submitted to Power of 10 will be denied.
Please park responsibly – consider our local residents.