Inter Regional Cross Country
21/11/22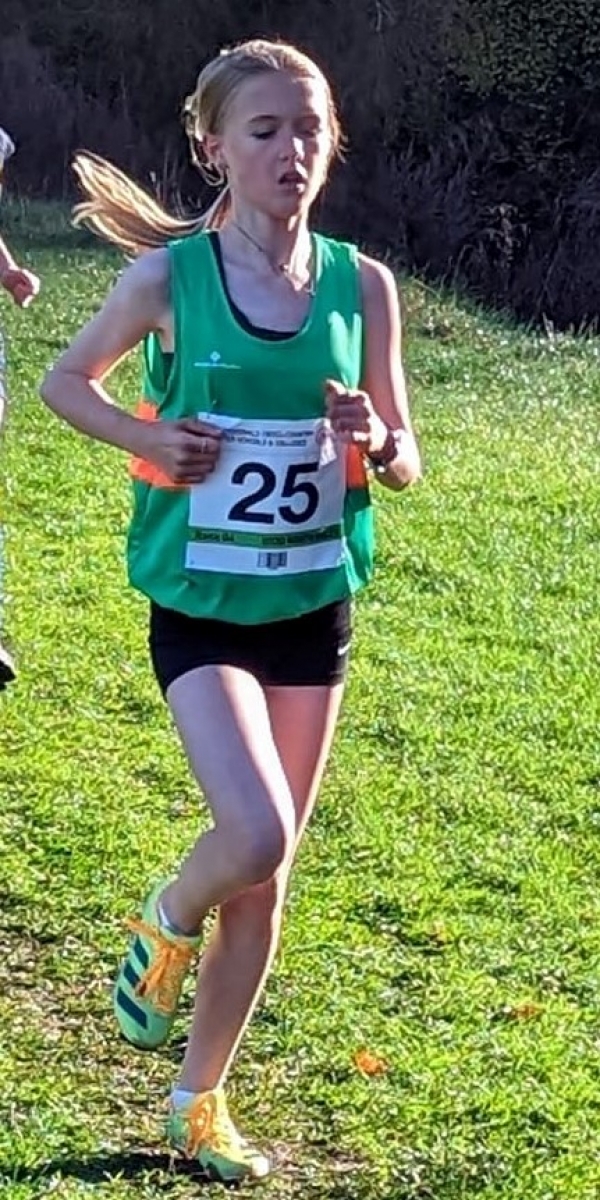 Well done to Alfie, Evie, Rosie and Lucy who were all selected to represent North Wales at the inter-regional cross country championships this weekend.
After a long coach trip south to Monmouth, all put in fantastic performances helping their teams to medal victory with Alfie and the under 15 boys clinching the silver team medal, Lucy and the under 15 girls also taking silver and Rosie, Evie and the under 13 girls team taking bronze. Well done everyone, what a great accolade to represent the North Wales region
The North Wales race report from the day is below.
WELSH INTER REGIONAL CROSS COUNTRY CHAMPIONSHIPS - MONMOUTH 19/11/22
A great day for North Wales at Monmouth with some stunning results across all ages.
After the first two 'school' races in which North Wales athletes performed very well, the Women's senior and masters race was first up. It was great to see Martha Owen, Deeside, take on the pace early on but it was Gemma Moore, Eryri Harriers, fresh from winning a bronze team medal at the British Masters Cross Country International, who led the team home in 6th place and 3rd W35. Martha was our first senior home just 22 seconds behind Gemma with Ffion Price just a few seconds behind her.
Emma Collins picked up a well deserved bronze in the W55 category and in the same race Neil Owen picked up a bronze in the M65 age group followed quickly by Mike Snell. In the team races the W55 team picked up silver medals.
The next race of the day was the Under 13 Girls and Heather Watson, Deeside had a great race to finish second with Tamsen Seguin, Menai just two places back and her clubmate Esyllt Owen in seventh. They helped the team to Bronze medals.
Next up was the Under 13 Boys and Alfie Evans, Deeside led the team home with a great third place. He was backed up by clubmate Oliver Welsh in sixth place and Jude White, Oswestry in eighth. With such good packing it was no surprise that the boys won silver team medals.
The Under 15 Girls came next and whilst North Wales didn't have the winner we did have second, third and fourth places as Abigail Doherty, Deeside, Madison Hughes and Mackenzie McCourt, both Maldwyn led home the team to another set of silver medals.
Whilst the Under 15 Boys couldn't quite match their female counterparts, they did manage second and third as Ben Sergeant, Eryri and Miguel Jenkinson, Menai led the team to yet another silver team medal.
Beca Bown, Menai showed her class by winning the combined U20 and U17 race by 20 seconds. Maddi Griffiths, Maldwyn was third in the U17 women. Unfortunately, we did not manage to complete teams in the U17 and U20 women's teams (no region completed an U20 team!!).
Deri McCluskey, Maldwyn easily won the U20 men's race with his nearest competitors coming from the U17's with Noa Vaughan, Eryri leading home the Under 17 runners. After so many silvers it was great to see that both teams won gold medals.
The final race of the day was the senior and master men. Tom Wood, Eryri had a superb race and ran tactfully smart and comfortably secured second place after a great race long battle. Joel Gomes, Wrexham was 7th in the M35(4th M40). Chris Callaghan, Buckley made the decision to run a championship rather than a friendly Inter County road match and was rewarded with his first Welsh gold medal in the M45 category, whilst in the M55 age group Mike Whyatt, Eryri had a superb run to win the M55 age group and help the team to yet another silver medal.
A great day for North Wales and athletes, coaches and Team Managers rewarded for a long day and hard work. Thank you to the Team Managers and coaches who helped both in the lead-up and on the day. I'm hoping that next year's event may be a little bit closer to home (watch this space).
Photo of Evie competing on the day, picture courtesy of Craig.