Lower Age Group Youth Development League – Bangor 8th May 2022
12/05/22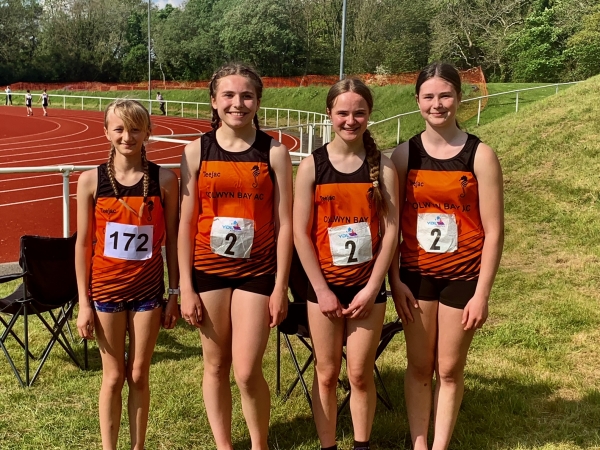 Lower Age Group Youth Development League – Bangor 8th May 2022
On Sunday 8th May Colwyn Bay Athletic Club took part in the first round of the Youth Development league (YDL), hosted by Menai Track & Field in Bangor. Many thanks and well done to the amazing seventeen athletes who represented Colwyn Bay AC on the day. We also had five athletes stepping up for their very first track and field competition, well done to you all! The team managed 239.4 points overall, placing them 3rd in the league so far. Thank you also to the parents who helped on the day; officiating, supporting the athletes and supplying the club with photos for our social media platforms.
In the U15 boys, Oliver ran a PB in his 300m (41.40s), long jump (4.24m) and high jump (1.35m), Alfie ran in the 1500m (4.38.20), javelin (10.49) and even turned his arm to shot put for the first time in a competition (4.04m)! Morgan played a full morning of football in his team's cup final; two halves plus extra time (they won in extra time!!!) before rushing to Bangor for his high jump. He jumped 1.35m on very tired legs- well done Morgs!
In the U15 girls, Cara, Eva Freya and Lydia were in action gaining themselves a raft of personal bests and speedy times. Cara ran the 200m (27.40s) and 300m (44.90) and long jump (3.395m). Eva ran the 100m (13.20s) and 200m (27.70s) and high jump (1.15m). Freya ran the 100m (13.90s) and the 300m (45.70s). Lydia raced in the 100m (13.90s) and long jump (3.46m). Lydia and Freya both offered to step up for the team, throwing shot put in competition for their first time and gaining valuable points for the team and two PB's (3.55m for Lydia and 5.77m for Freya)! Cara, Eva, freya and Lydia then closed the day with an amazing 4 x 100m relay, winning their race in a time of 54.50s. Well done girls, with each race you are getting closer to the club record!
In the U13 boys and U13 girls age groups, we had five athletes making their track and field debut; Ava, Riley, Lily, Owen, and Evie! All put in amazing performances across a huge variety of events, facing up to their nerves and doing themselves proud with great results; Ava ran in the 800m (3.06.40) and shot put (4.00m). Riley raced the 75m (13.00s), shot put (3.65m) and his favourite event; javelin (6.39m). Evie ran the 800m (3.07.70), shot put (3.90m) and javelin (9.59m), Lily ran in the 75m (13.20s), 150m (27.30s) and long jump (2.36m). Owen raced the 75m (12.60s), javelin (8.58m) and shot put (3.84m). It was a huge accomplishment for these athletes to achieve so much in their first competitions and it was great to see them smiling, proud with their achievements.
Also in the U13 girls we had Emily and Cari in action. Emily got the fixture underway in the morning, winning the first event of the day with the 70mH (14.40). Emily also completed in the high jump (1.20m) and javelin (15.02m). Cari the rocket ran superbly in the 75m (10.40) and 150m (20.80). Her times are amongst the fastest in Wales so far this year her age group – well done Cari!! Cari also competed in the long jump (3.29m).
The Under 13 boys also had great performances from Finley, Max and Iwan. Iwan ran in the 75m (10.9s) and 150m (22.30s) and long jump (3.74m) winning his event by 2cm! Max ran in the 1200m (4.39.7). Finley ran the 800m (2.41.30), 75m (11.70s) and long jump ( 3.24m). The Under 13 boys then finished off their days performances with a great 4 x 100m relay from Iwan, Finley, Max and Riley in a time of 66.0s.
Overall, the team were fantastic and an absolute credit to themselves and the club. The next round of the YDL is on the 3rd of July in Manchester. Although slightly further away, it would be great if our team from Sunday have inspired others to step up and help the team move further up the league. We may have the option of transport to the Manchester fixture.