North Wales Cross Country Junior League Meeting 1
05/10/22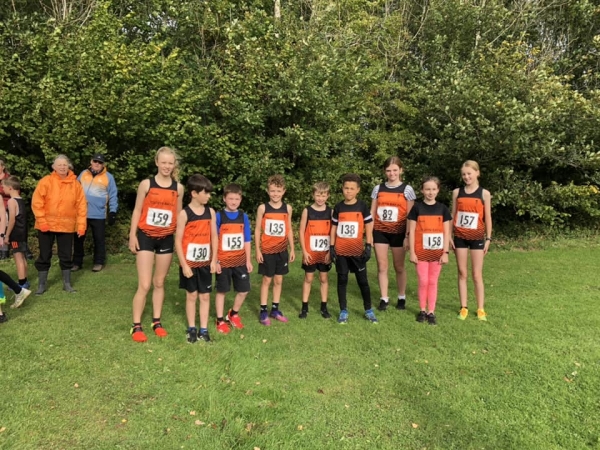 The weekends junior country results are out!
Full results available on the link at the bottom of the post
well done everyone
For those new to cross country, each race is not just an individual event, but a team effort, with each race building points for the team and the chance to chase a coveted team league trophy!! Don't forget; there are four races in the league - participating in three will earn a medal for each athlete, plus there are league medals (gold, silver and bronze) at stake for the overall teams and individuals at the end of the league
Well done everyone on your amazing performances this weekend. Great to see so many teams in action. Well done Zac Spencer who gained himself an impressive start to the league placing a mighty 2nd in his under 11 boys race
. Alongside Zac, superb performances from his super team mates Charlie, Tyler, Ed and Freddie means the boys are currently sat in the silver medal position for the team trophy
. Stirling performances from Morgan, Harri and Luke place them 6th in the hugely competitive under 15 boys age group. The team were led home by Morgan in 8th place.
A brilliant team performance from Ciara, Lucy and Lydia places them in second
place in the under 15 girls after being led home by Ciara (5th). The Under 13 girls were led home by Rosie (6th) who together with team mates Evie, Elinor and Lily are currently in 3rd place in their age group, da iawn girls
. Our smallest (but by no means less mighty
) team of the day were our under 11 girls Maizie and Caitlin who after being led home by Caitlin (7th) now sit in 5th position overall. Well done girls, hopeful we can get some more recruits into the team over the next few races
.
The next fixture is on the 22nd October in Newtown….it is a fair trek but the stunning location, beautiful flat course and warmest of welcomes from hosts Maldwyn make it more than worthwhile. If there is a demand, we will try and arrange a minibus to travel down (please let us know if you're struggling for transport). Every race counts so let's keep our teams strong and earn ourselves some points and kudos with our cross country performances